Pat Foley's History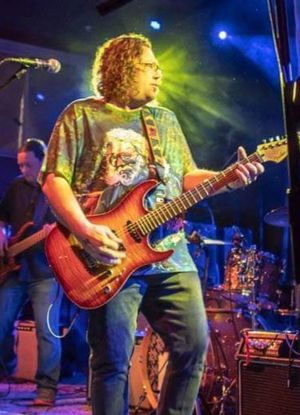 Pat has performed over 5,000 shows during his 20-year career. He has performed for and captured audiences from New England to the Mid-West. Pat has performed over 250 shows a year since 1989. With a songlist of more than 600 cover songs it gave him a great base to build on his own songwriting skills, it also polished him into being an energetic and passionate entity on stage. An audience can't help but be effected by his chameleon-like stage presence and versatality. (You'll never see him sitting on a stool through a show!)
His solo career and performances with his band have led to some great opening acts and exposure. In July of 2012 Pat won a radio contest on 102.9 FM WBLM in Maine called "Rock Star for a Day" and got to open up for Ted Nugent, Styx and REO Speedwagon at the Bangor Waterfront Pavillion.Some of the national acts he has opened for include Dave Mason (8 times), 38 Special, Bad Company, Peter Wolf (of the J. Giles Band), John Cafferty & The Beaver Brown Band, David Bromberg (2 times), Leon Russell (2 times), Commander Cody (3 times), Jim Messina (of Loggins & Messina), Buckwheat Zydeco, Dr. John, and John Sebastian, Michael Martin Murphy, Firefall just to name a few. He has also had the good fortune to play some acoustic music with Bob Weir of the Grateful Dead. In the summer of 1993, He released his first cassette entitled "CHANGIN'" (recorded on his label – MiOwn Records).
A compilation of eight original songs. 1,000 copies sold.
Aside from his solo work, he has fronted his own bands – Infrared (a Maine based, 4-piece rock band in 85 & 86) and P.F. & The Flyers (a 6-piece R&B, rock band with two horns). P.F. & The Flyers performed from 1989 to 1993 and were based in Colorado. They opened for many national acts, including REO Speedwagon, Marshall Tucker Band, Bob Welch, Ozark Mountain Daredevils and Firefall. He also has a current CD out which has sold over 6500 copies entitled The Lost Tracks.
There are 12 Tracks on that CD of all original material.
He is currently writing and performing in the New England area and has started recording with his new band. The Pat Foley Band. A 3 piece line up that has guest musicians from time to time. He is currently performing both Solo acoustic and Band shows throughout the New England area. Pat's New CD Titled "One Day at a Time" is now available for sale and download. Pat is currently writing and working with his band to plan an East Coast and Midwest tour to back his new CD. If you are interested in having him do a solo or band show at your venue contact bookings@patfoley.net